TECH TRENDS ENHANCING BEAUTY STORE EXPERIENCES
The beauty industry has been one of the most forward-thinking sectors within the retail world as of late, with a plethora of disruptive beauty start-ups, new consumer trends around health and sustainability and advancements in science and technology. With so much competition and innovation, beauty brands must work hard for their share of the market. Whilst beauty sales are booming online, those brands with in-store space are at an advantage to offer a more enriching, personalised experience, aided by the integration of the latest in beauty tech. Here we take a look at some of the latest gadgets and gizmos that are really adding brain power to the beauty store experience.
Interactive screens
Brands like Nivea and Johnson & Johnson are using touchscreen technology that automatically displays product information when a shopper touches an item displayed on a store shelf. It's reported that beauty brands have experienced a 37% sales lift from these interactive displays. Macy's is another example, who found that customers liked to shop online for fragrances by scent, but inside stores, the category was arranged by brand. Entering a partnership with Perch Interactive, the retailer will look to install fragrance finders so consumers can browse by scent in-store, as they do online.
Augmented reality
Becoming main stream in 2017, augmented reality has been adopted by the likes of Sephora, Estee Lauder, and L'Oreal. The technology has allowed shoppers to virtually try on different looks before purchasing products or changing their looks. It's covered everything from trying on make-up or pre-testing haircuts, colours and styles to even eyebrows. With Benefit Cosmetics, users can try on different brow styles before getting plucked or waxed. The technology also allows retails to collect a wealth of data about their customers, so they can send appointment reminders, suggest new products or give tailored beauty tips.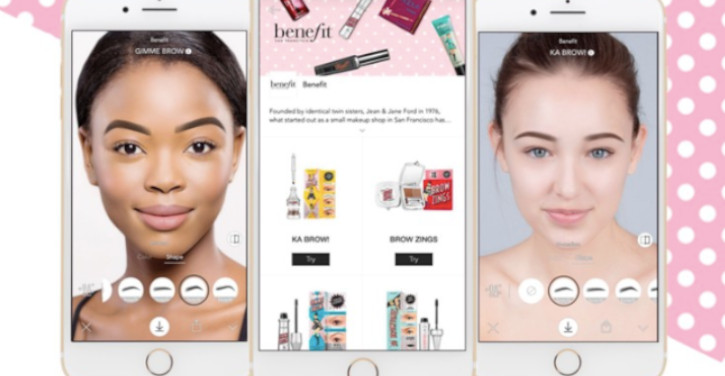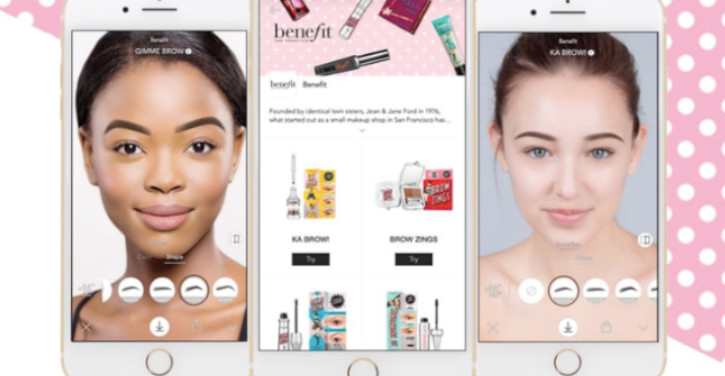 Virtual reality
In-store virtual reality experiences are allowing customers to be transported to whole new environments. NYX Professional Makeup, for example, used the technology to bring fans closer to their brand ambassadors, delivering 3 virtual makeup tutorials led by top beauty vloggers through a VR headset. Consumers used a controller to select products they would like to learn more information about and received a special offer to purchase the products featured in the tutorial. Japan-based Vaqso has produced a devise that attaches to a VR headset and emits scents related to the VR content, enabling an almost fully sensory VR experience. We could see the technology used to enhance the fragrance selecting process in the future.
AI & facial scanning
With the development of artificial intelligence (AI), it's not enough to offer personalisation in a form of an engraved lipstick anymore. AI algorithms will allow in-store staff to provide instant product recommendations based on a customer's physical characteristics, whether that be skin tone, eye colour, face shape or an individual's preferences for certain ingredients. It can be applied to shade matching, so consumers can find the perfect foundation to match their skin tone with just a photo of their skin. Olay developed the 'Future You Simulation' which takes a high-resolution image of the face and shows you what you'll look like in 20 years, age spots and all. To make the simulation, Olay took high-resolution images of 1,250 women between the ages of 10 and 80 from five different ethnicities.